Welcome to the Home Decor & More blog hop. This is day1 of this 2 day event so make sure you stop by tomorrow too. Our host is Cicily the Pink Dalmatian Scrapbooker. If you came from
Jessi
then you're in the right spot. If you want to start from the beginner than head on over to
http://pinkdalmationscrapper.blogspot.com/
and hop your way thru some amazing home decor. The Pink Dalmatian is giving away blog candy, you can see all the details on her post. Some of the other hoppers may be giving away candy to so be sure & check them out.
We all have drawers, closets & possibly rooms full of scrapbooking supplies. Those beautiful, colorful supplies don't have to be limited to our pages. We hope to inspire you to use your supplies in Home Decor projects that add that special touch to our homes.
I wanted to share with you today a cute little wall frame I made for a friend. These are so easy to make and are perfect gifts to give for birthdays, anniversarys and Christmas.
I used my Gypsy to weld the letters together with Cursive 101 cartridge, and the Family is made with Plantin Schoolbook, and then I used the Sentiments cartridge for the little swirly. I then cut out on vinyl and the put in and the picture frame that I bought.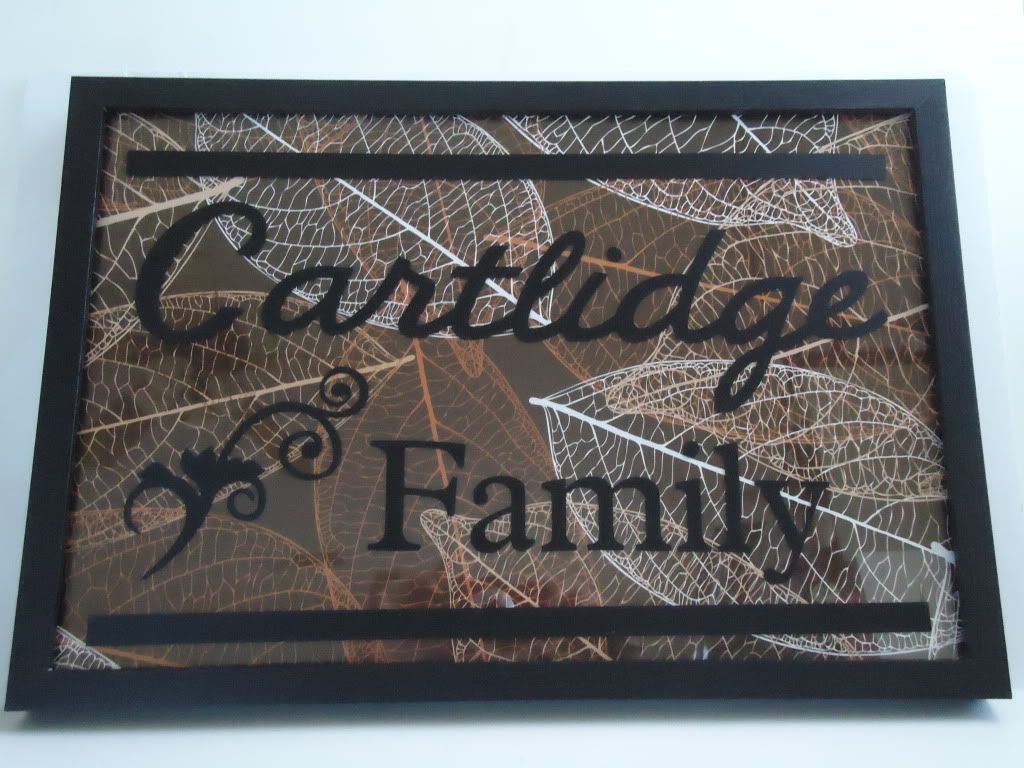 Thanks for stopping & looking at my Home Decor project.
Blog Candy: I am giving away some blog candy too, woohoo! I will be giving away the New Limited Edition Tim Holtz Spring Ink Set or the Spring Re-inker set, your choice.
So there are a couple of simple things you can do to win.
1. Be a follower- required
2. Leave a comment on this post- make sure you leave your blog addy so I can come and visit you.
For Extra entries you can:
1. Visit my webstore
www.whatsscrappin.com
and look around then come back and leave a comment on you favorite products.
2. Like me on Facebook:
https://www.facebook.com/pages/Whats-Scrappin/172626176125726?ref=hl
3. Post about my webstore on your blog and let me know you did so.
Now you are on to
Esther's blog.
Have fun! And we will see you back here tomorrow!
In case you get detoured along the way, here's the blog lineup:
Cicily Lesher
www.pinkdalmationscrapper.blogspot.com
LissaMarie
www.somanycrafts.com
Robin Scott
www.scrapandchat.blogspot.com
Melissa Pinter
http://pinkpolkadotscrapping.blogspot.com
Jessi -
http://mylifeinartsncrafts.blogspot.com/
Becka
http://creationswithbecka.blogspot.com
Esther
http://forthejoyofcreating.blogspot.com
Tammy
http://thepurplemuse.blogspot.com
Shannon -
http://shannonleffew.blogspot.com/
Ashley -
http://theglamoroussideofscrapping.blogspot.com
Maria Matter -
http://JoyfulStamper.blogspot.com
Shawnee -
http://quiverofangels.blogspot.com
liz mullen-
http://scrapiliciouslife.blogspot.com/
Erica
http://mycricutcraftroom.blogspot.com