Welcome to my Blog and the

Lucky Charm Blog Hop

! If you've come from visiting
Carol
you're in the right place. If you were just looking at my blog and want to play along with our blog hopping fun, you can start at the beginning at Giselle -

http://crossmyheartpapercrafts.blogspot.com/

. This blog hop is all about creating something for the lucky charm in your life.. So I created a notebook for my mom. she is one of my bestfriends and is always there for me. She always has the right words to make me feel better, never ending advice and just makes my life better all around.
I bought this notebook at Michaels in the $1 section ( WOOHOO love the dollar section), but even better it was 50% off- heck yes! How awesome is that. It is a lined notebook and the covers are chipboard- it doesn't get any better than that!
This is what it looked like originally.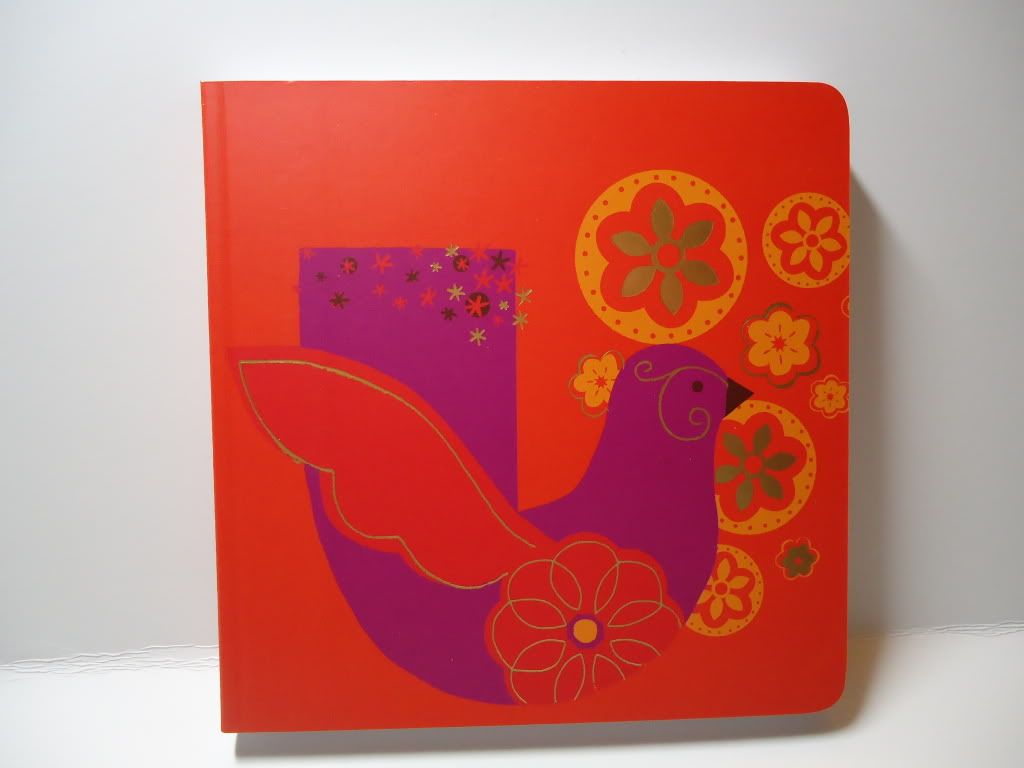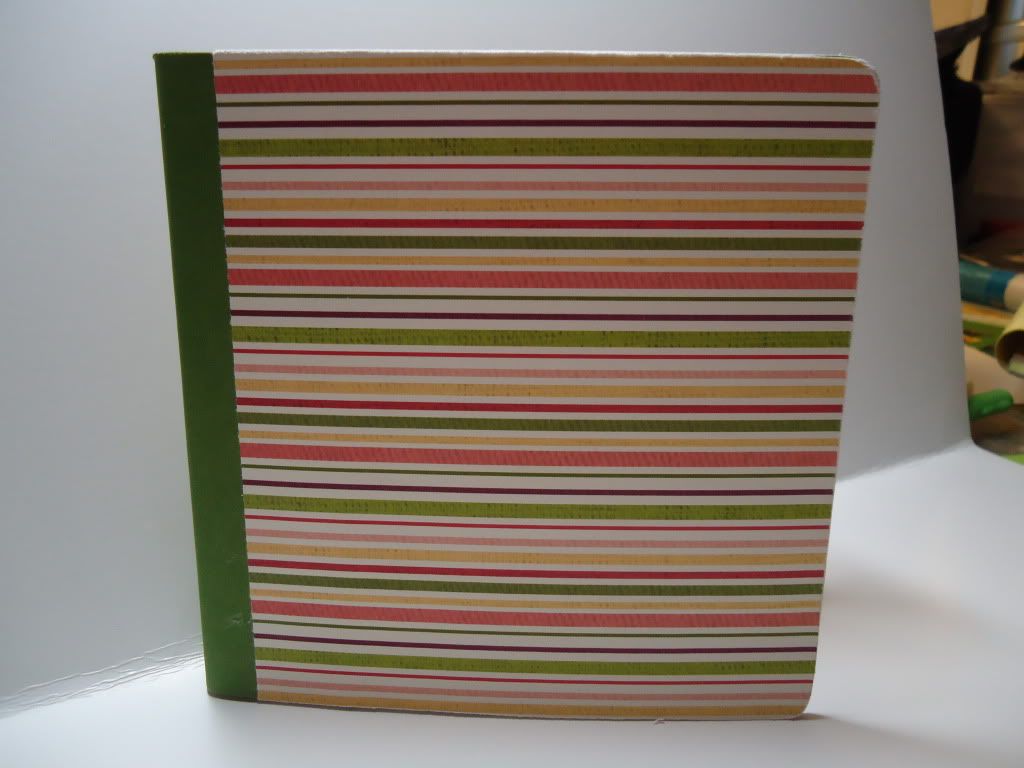 I covered the binding with green cardstock and the added the striped patterned paper to the front and back covers. Sanding down the edges so it fits perfectly on the covers.
Next I used my Gypsy to design a St. Patricks day theme to go on the cover. This is how I set it up on my Gypsy. I used Simply Charmed, which is the 1st time I have used this cartridge and let me say it is a MUST have- so many great images on it.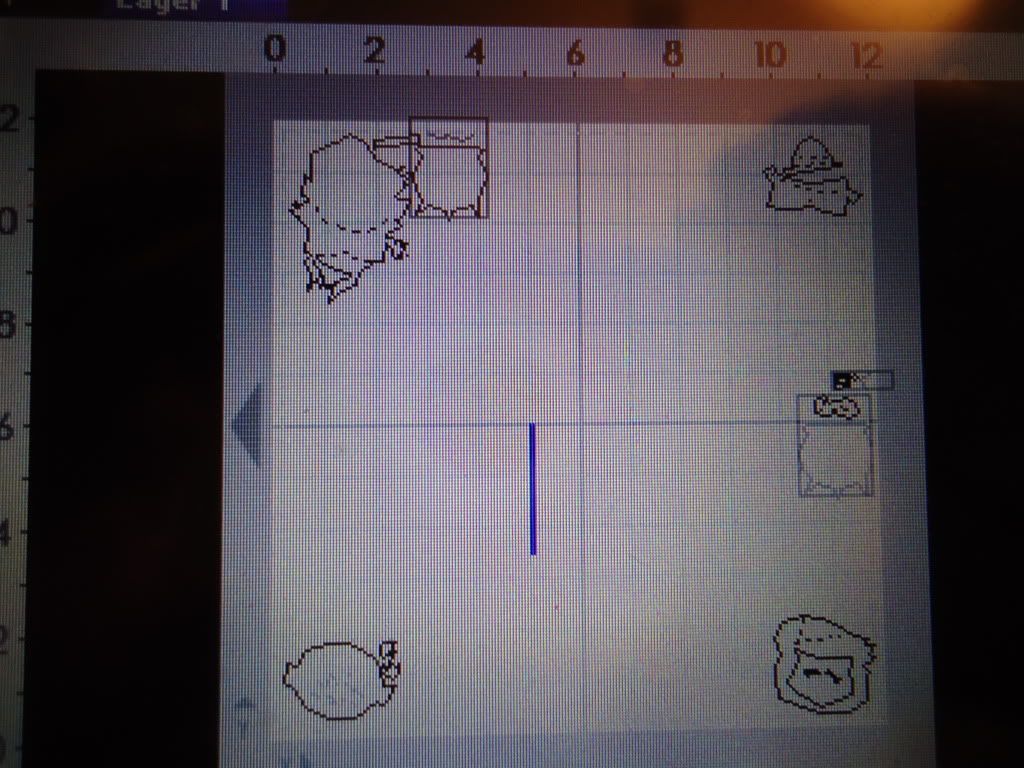 The grayed out areas are the parts I did not want to cut. Here is how I set the cardstock up on the mat.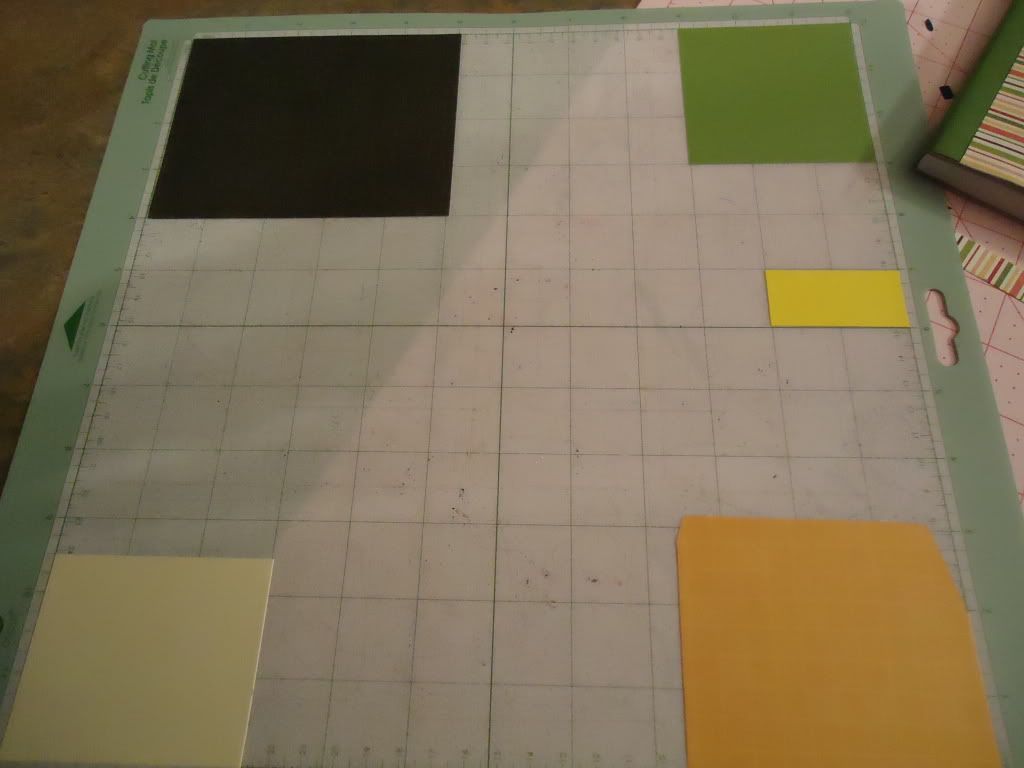 I used mostly scrap paper for all the cuts. It seems like I have so many scraps, but with the Gypsy it is so easy to tell what size of paper you need and where to put it on the mat. I cut the little guy out at 3" and the pot of gold at 2"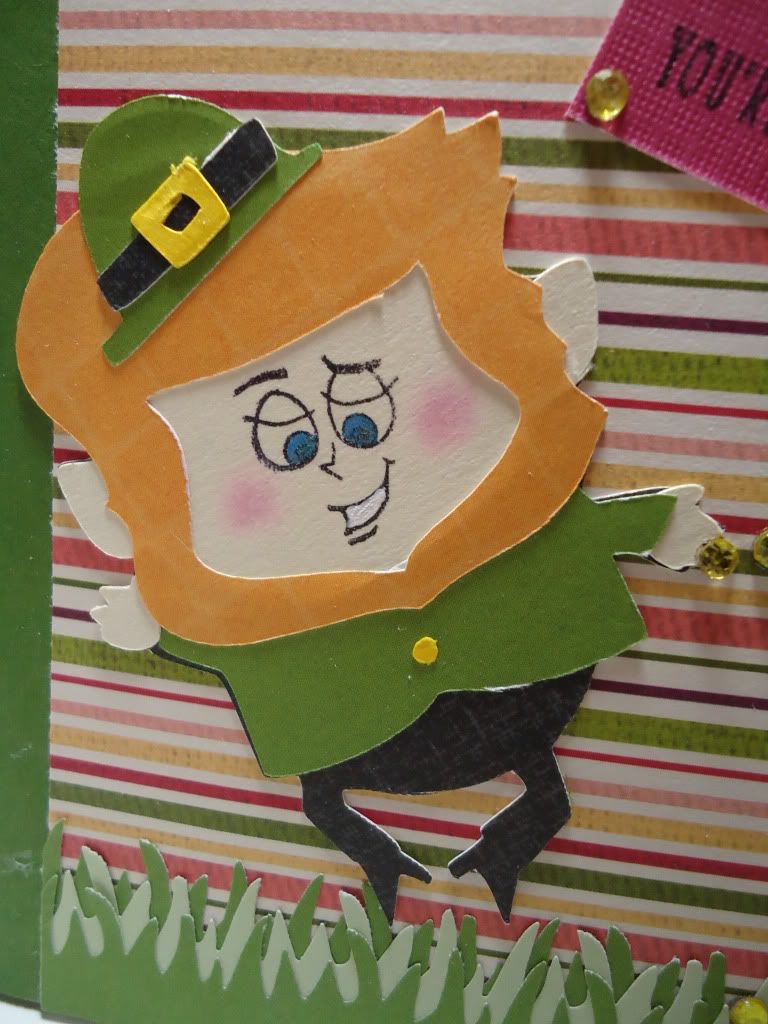 I used Pk Retro Dolls stamp for the face and a white gel pen for his teeth, blue gel pen for his eyes and pink chalk for his cheeks.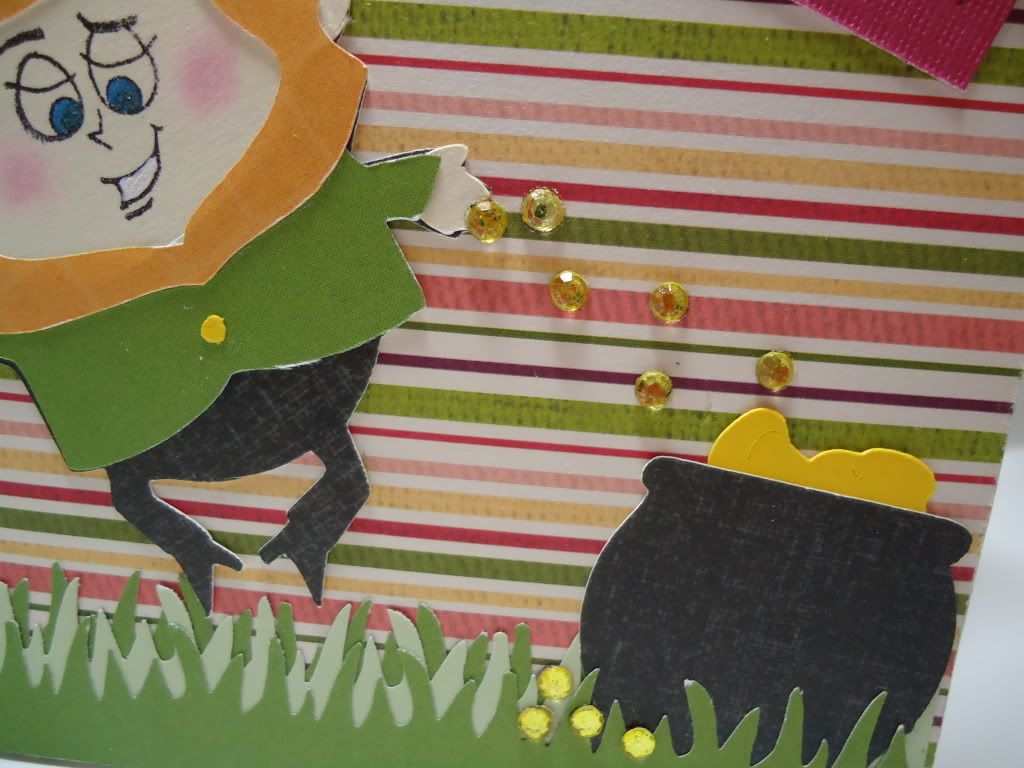 The gold he is throwing out of his hand is bling from Imaginisce and I used the I-rock tool to adhere it. The grass is a Friskers punch.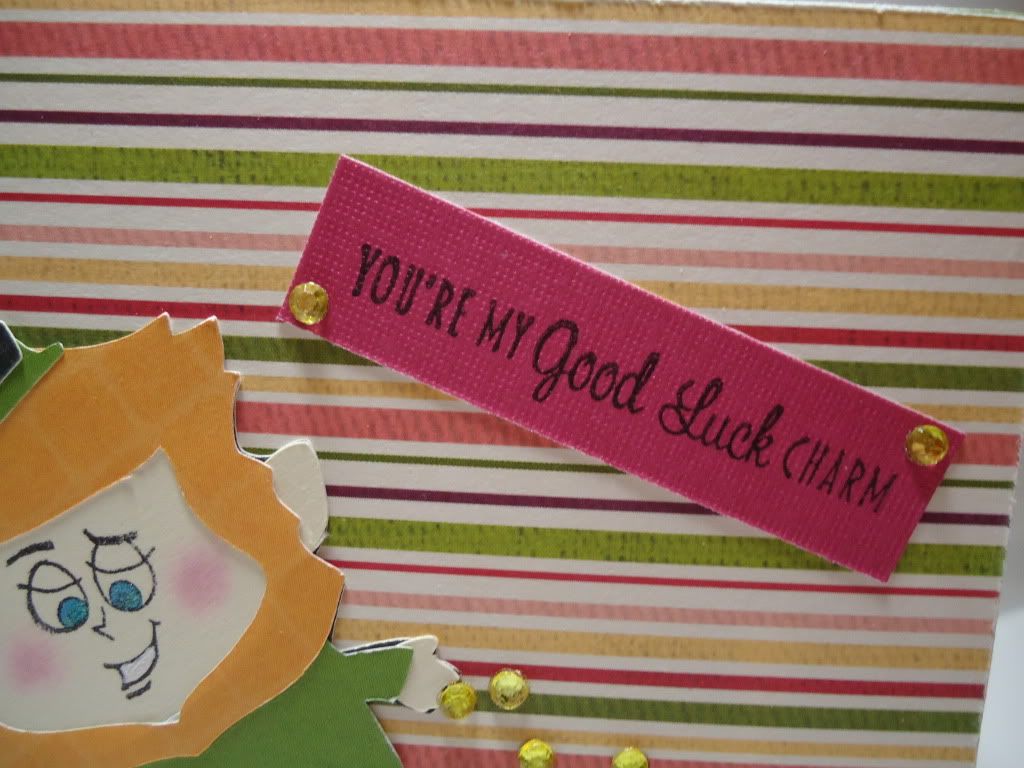 My super cool Circle Pal Jenny K sent me this awesome stamp that just goes perfectly with the theme of the hop.
Ok, so now on to the good stuff! Who wants some blog candy??? I know you do! Okay, well for the hop I am giving away B is for Boy Cricut Lite Cartridge.
You have to do 2 things to enter....
1. Must be a follower
2. Must leave a comment with a way to get a hold of you
Simple, Simple Simple.... I will draw a winner Monday and post it by Monday Night.
I hope you have enjoyed my project. Thank you for visiting my blog. Your next stop is Linda -

http://www.fancyframework.com/

go check out the awesome creations she has made for this hop.
Thank you Giselle and Nadia for putting together this awesome blog hop and all the hardwork you have done to make this an awesome event.
Don't forget to stop by next weekend for the Make Your Own Holiday Blog Hop
Here is a list of the blogs in the hop in case you get lost along the way:
Giselle -
http://crossmyheartpapercrafts.blogspot.com/
Nadia -
http://nadiasbeautifulmess.blogspot.com/
Jennifer -
http://creativearmywife.blogspot.com/
Alina -
http://neverstopscrapping.blogspot.com/
Kim -
http://rickettscricuts.blogspot.com/
Yolonda -
http://www.craftyscentiments.blogspot.com/
Donna -
http://donnasdreamworks.blogspot.com/
Carol -
http://caroleesscrappinspot.blogspot.com/
Rebecca -
http://www.creationswithbecka.blogspot.com/
ME!
Linda -
http://www.fancyframework.com/
NEXT STOP
Amy -
http://amydesigns.blogspot.com/
Lisa -
http://prettypaperprettyribbons.blogspot.com/
Sue-
http://ScrappinSuzy.blogspot.com/
Carrie -
http://paperglitterstamps.blogspot.com/
Patricia -
http://creativediva98.blogspot.com/
Wendy -
http://wendyscreativecraftingcorner.blogspot.com/
Kimi & Pamela -
http://lovebugcreations3.blogspot.com/
Darcy -
http://dlmbscrapping-time2create.blogspot.com/
Julie -
http://www.facebook.com/l.php?u=http%3A%2F%2Ftidbitsnscraps.blogspot.com%2F&h=2aba9
Shawnte -
http://shawnteparks.blogspot.com/
Amber -
http://www.pixiperfectcreations.blogspot.com/
Melissa -
http://adventuresinheels.com/