Welcome to Creations with Becka and the MY THANKSGIVING BLESSINGS Blog Hop! If you've come from visiting
Raven's blog
, you're in the right place!
If you've just happened across my blog and would like to play along with our fun hop, you can go to
INKING IT UP CRAZY
and start at the beginning.
The theme of this blog hop is MY THANKSGIVING BLESSINGS. Each blog has created a project centered around the blessings they have had this past year. Be sure to visit each blog for inspiration and fun BLOG CANDY.
I am thankful for my family. It really doesn't matter how much money or stuff you have, or how big your house is or what kind of car you drive. The most important thing to me is my family. My wonderful husband and my 2 healthy beautiful children are my life! I am a better person because of them and I am so blessed that God gave them to me. So that is what I am most thankful for this and every year.
For this blog hop, I made a picture book that can also be made into a hanging star. Check out this video, and be nice, it is the very first video I have made.
Pictures of the inside pages: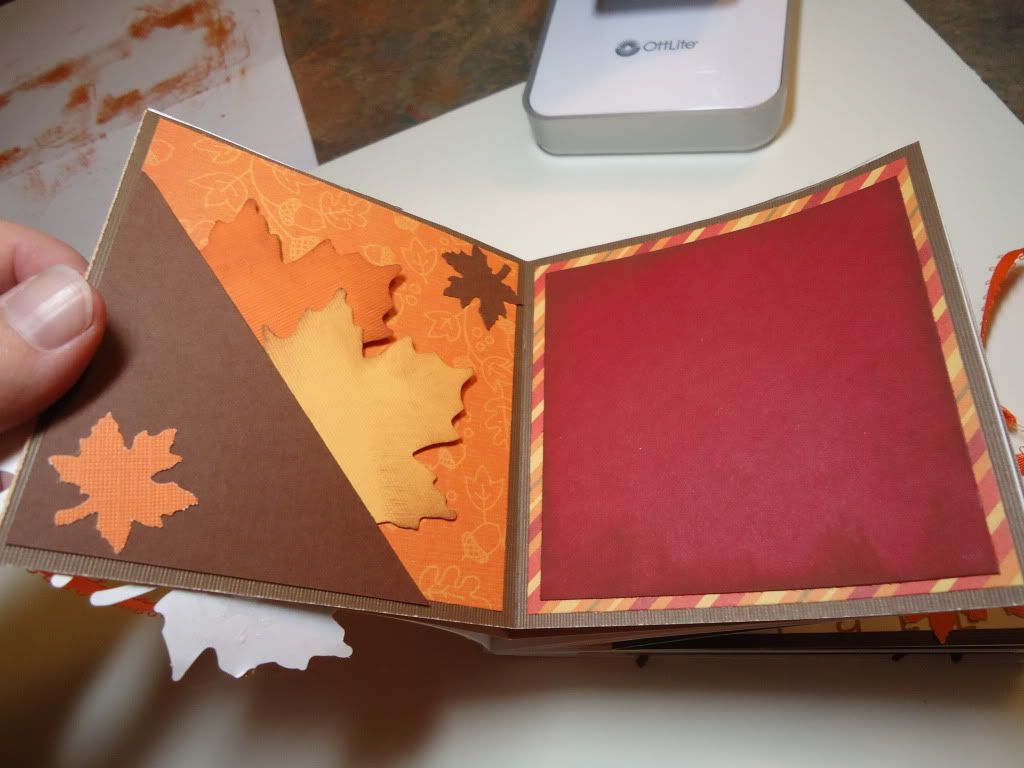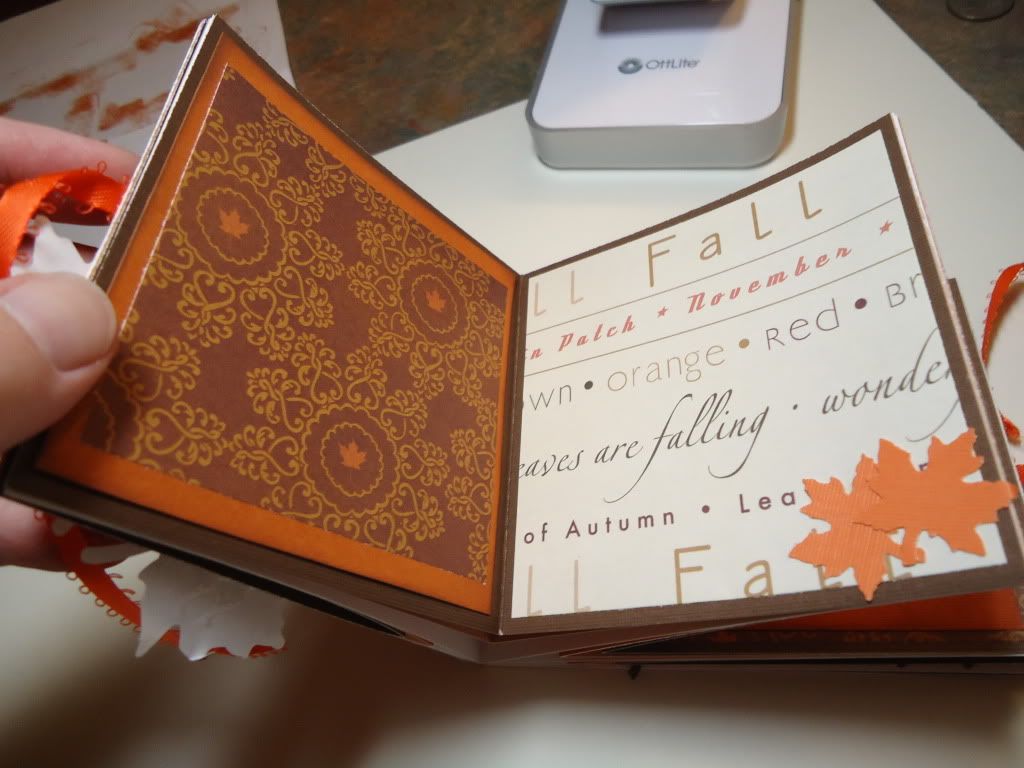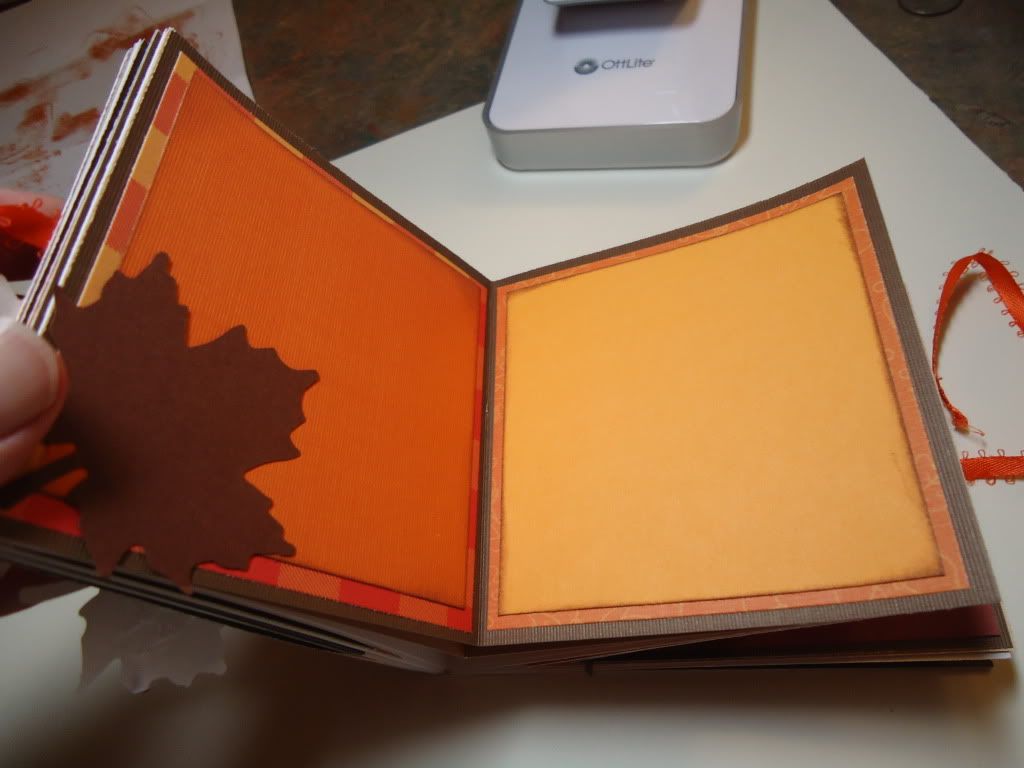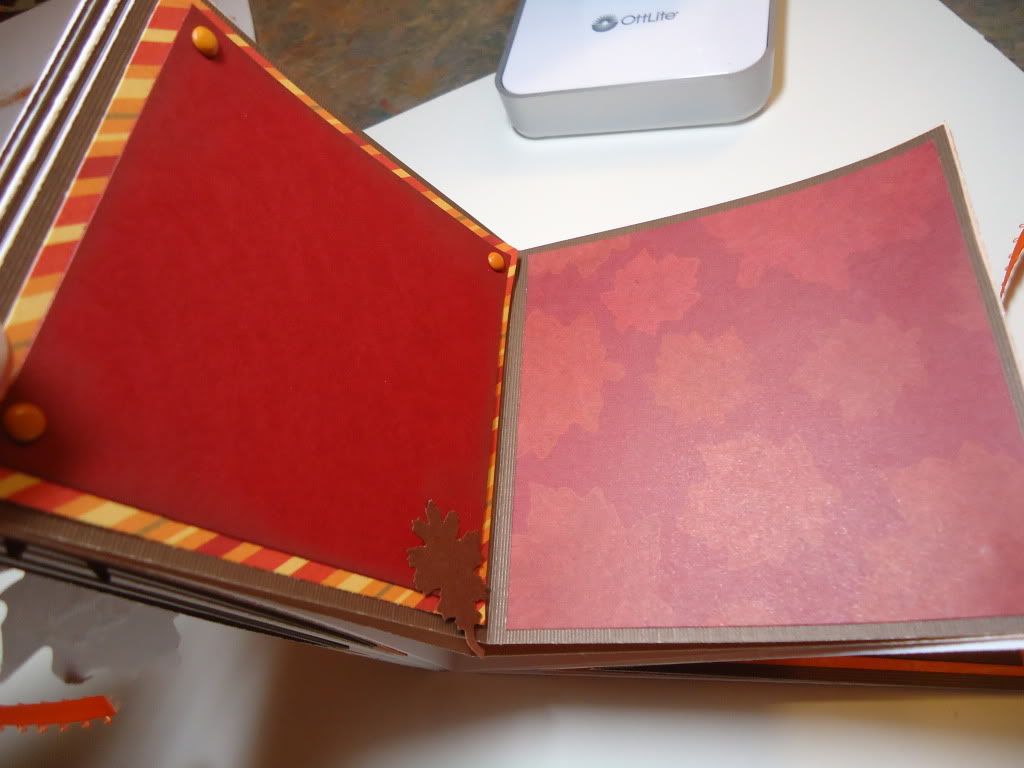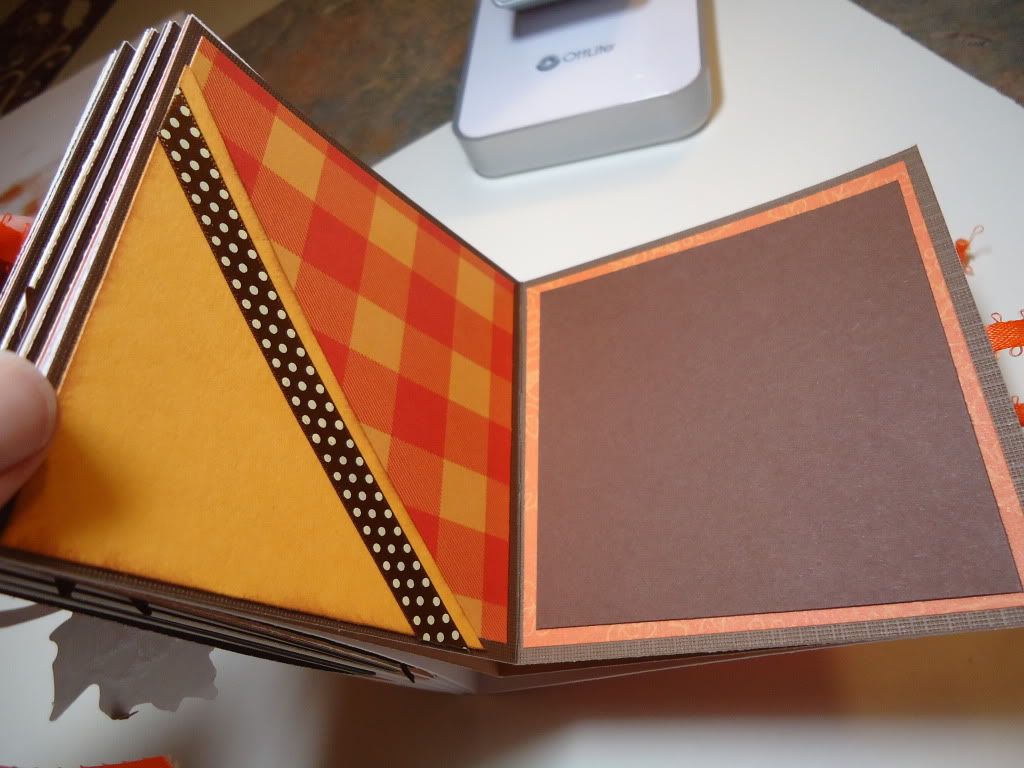 Ok, Here are the pictures I did along the way.
Instructions: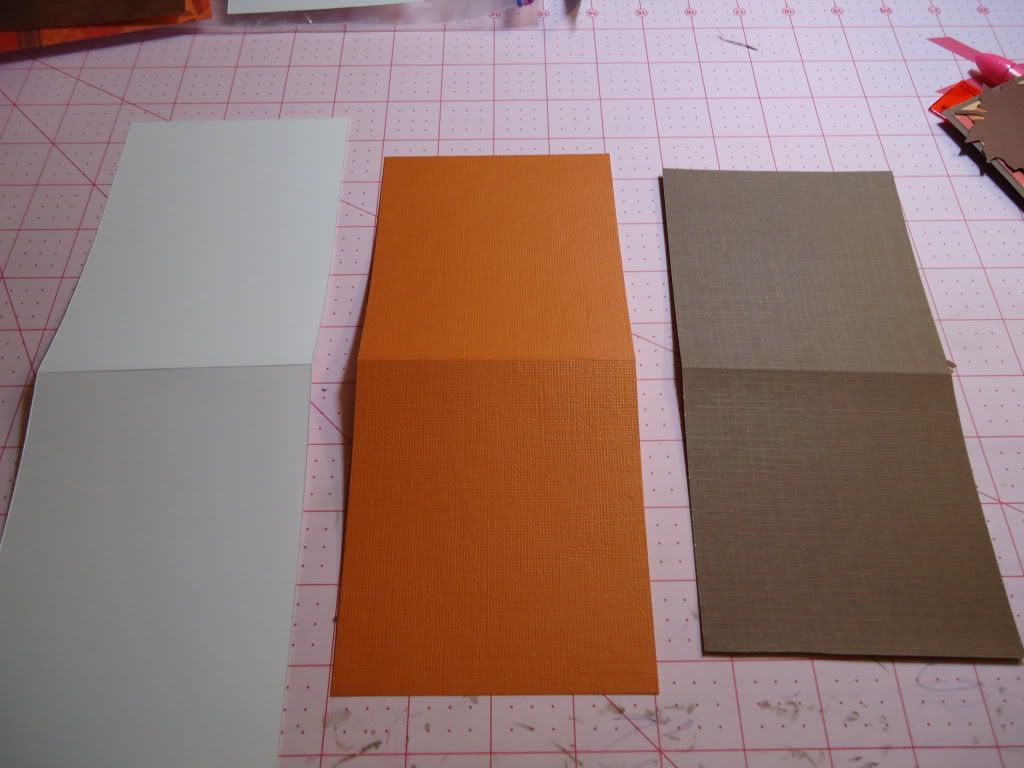 1. Cut 2 12x12 cardstock into 4"x11" strips for a total of 6, fold at 5.5"
2. Cut 2 12x12 cardstock into 4"x9" strips for a total of 6, fold at 4.5"
3. Cut 2 12x12 cardstock into 4x8' strips for a total of 6, fold at 4"
4. Cut 1 12x12 patterned paper into 3.75x3.75" for a total of 15
5. Cut solid colored cardstock into 3.5x3.5" squares for a total of 15
6. Cut 2 pattern cardstock paper for front and back cover 5.25x3.5" and strip for cover bind area at 4x2.5"
7. Cut 24" of ribbon, with 6" left at both sided of cover to be able to tie it together.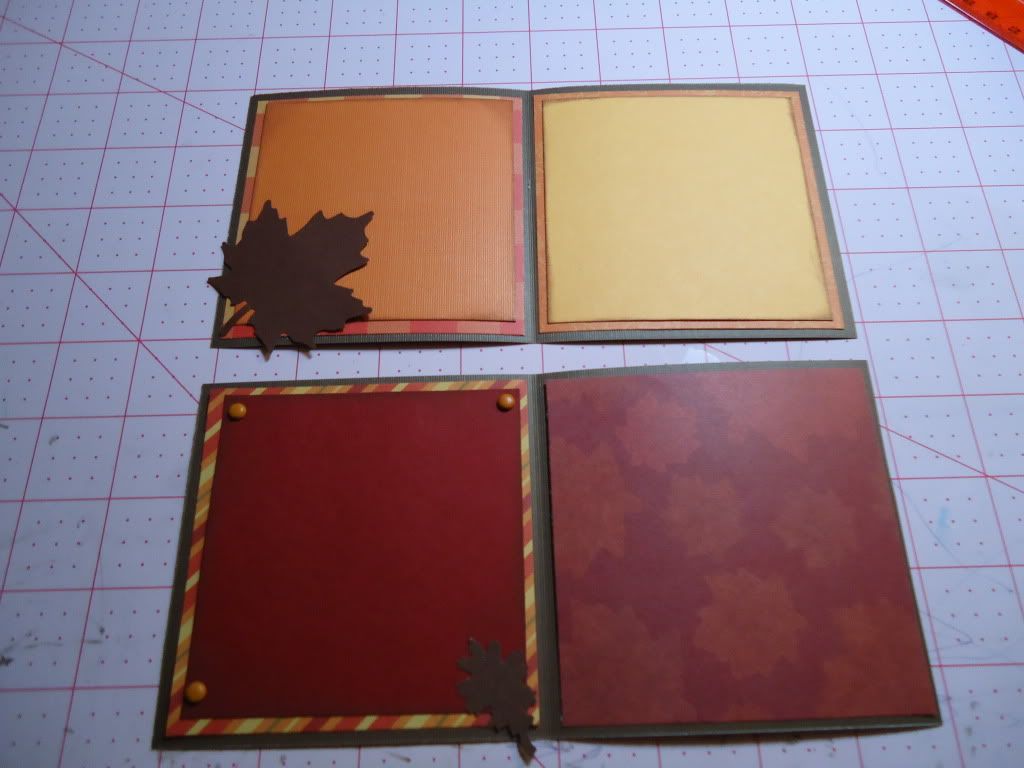 8. Glue all 3.75x3.75" paper to 3.5x3.5 paper to create a layered square, the glue layered square to 4x8" areas
9. Add all embelishments you want- cricut cuts, brads etc....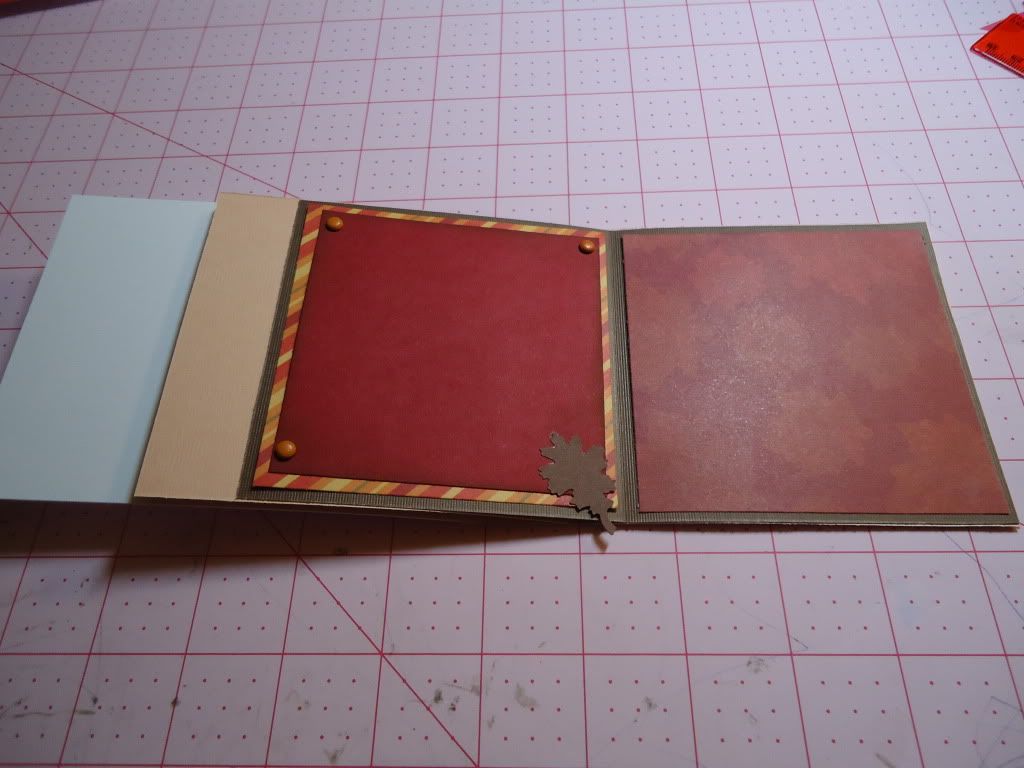 10. Take the 4x11" strip and add glue to the far right end in a .5" stripe, I used my ATG gun for this.
then take 4x9" stripe and stick to 4x11" strip end by lining up the ends, then do the same with the 4x8" strip. Repeat on left.
11. Repeat on all.
12. Take all booklets and glue together. Add Ribbon to the center of the cover, glue it down.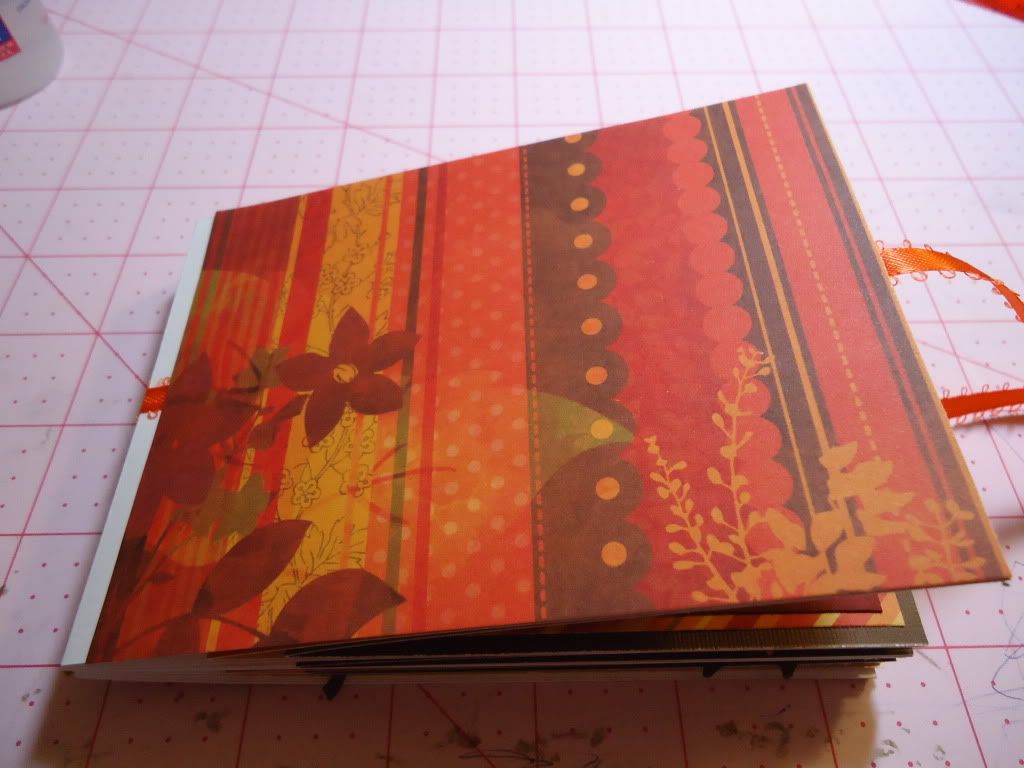 13. Add the cover pattern paper and embelishments, the and cover binder and you are done...
On now onto my Giveaway!! YEAH I am so excited are you? I am giving away My Pink Stamper Stamp Set More Punny-licious. My very favorite stamps!!!
For a chance to win this set of awesome stamps you:
1. Must be a follower
2. Leave a comment about what you are thankful for.
3. Check out all the blogs on this awesome blog hop.
and that is it, how easy is that????? I will draw a winner Monday afternoon by random.org and announce the winner later that night.
YOUR NEXT STOP IS
DEBBIE
....
Here is a list of blogs just in case you get lost along the way.
Kassidy-
http://www.inkingitupcrazy.blogspot.com/
Theresa-
http://www.juicycricutcards.blogspot.com/
Jenny-
http://www.crazyaboutcricut.blogspot.com/
Celeste-
http://www.ccscards.blogspot.com/
Raven-
http://www.love4stamps.blogspot.com/
Rebecca-
http://www.creationswithbecka.blogspot.com/
YOU ARE HERE!
Debbie-
http://www.craftydeb-ddscrafts.blogspot.com/
NEXT STOP!
Elisha-
http://www.milehighstamping.blogspot.com/
Sherri-
http://www.sherrisspace.blogspot.com/
Susan-
http://www.itsmesusanp.blogspot.com/
Sandra-
http://www.365daysofcricut.blogspot.com/
Kathy-
http://www.kathyand3kids.blogspot.com/