Hi Everyone
Today I have a special treat for you all! Two posts in one.
To get started I would like to share with you a sample card using the NEW Getting Cricky with K.Andrew stamps. Here is a notecard I make using her Food for Thought set called "Say Cheese". You can purchase Kristal's stamp sets
here
. I just love her stamp sets, all of them are adorable and affordable! They are made of the highest quality and they stamp so crisp! These are the best stamps I have used!
I used Create A Critter for the cheese and Getting Cricky Food for Thought Stamp sentiments.
Don't forget to come back tomorrow for our Stamp preview blog hop and u-stream live video. Friday's Blog hop has some awesome giveaways, almost every DTM will be giving away one or more Getting Cricky stamp sets! So make sure you come and check it out! Keep reading below, because I put together this awesome Father's Day gift that is super easy to make.
This week our DT Challenge for
Sweet Sassy Diva
, was to create a Father's Day project. So, now that the kids are out of school, I knew they wouldn't have made anything for their dad so we decided to make a mini album for him. My son had such a fun time helping me make this album, he helped pick out the cartridges and the cuts we would use in the album.
Here is what we made.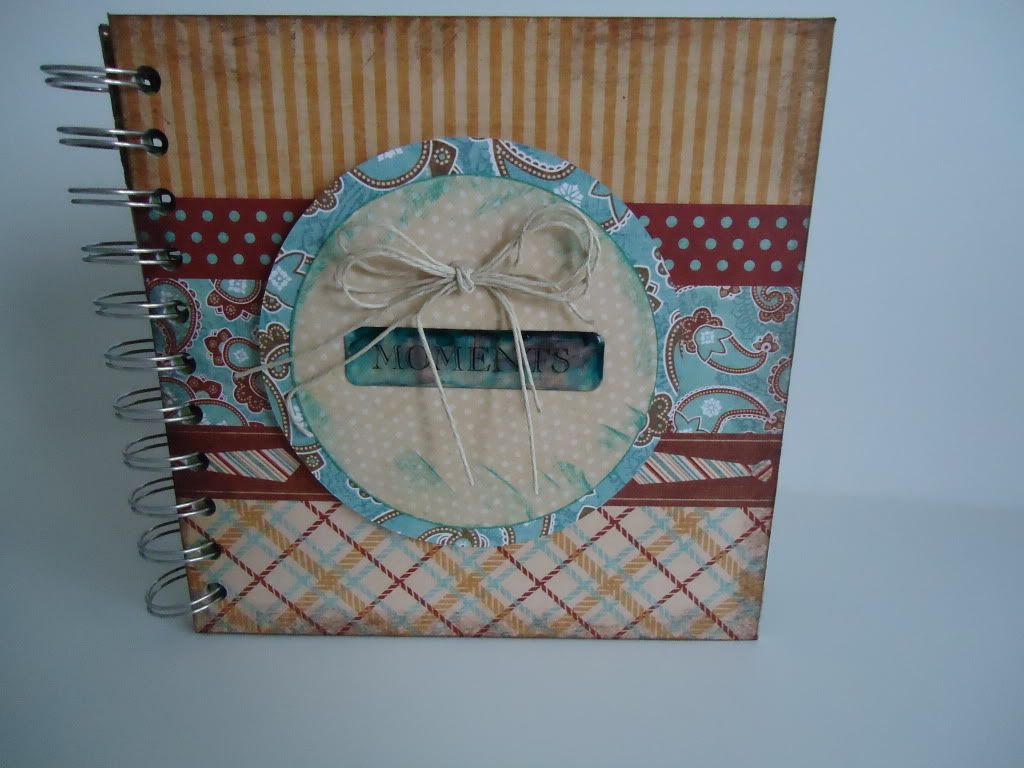 First, I used some pre-cut chipboard that is 6 x 6, then I used the patterned cardstock out of DCWV- It's a Guy Thing stack and cut them to 6x6, and glued the patterned cardstock to the covers and then the other pages are also glued together to make them a little thicker. I glued the white side of the pages together. I inked the edges of the album with chocolate ink. I used my cinch to bind the album together which was super easy- after I learned how to use it LOL!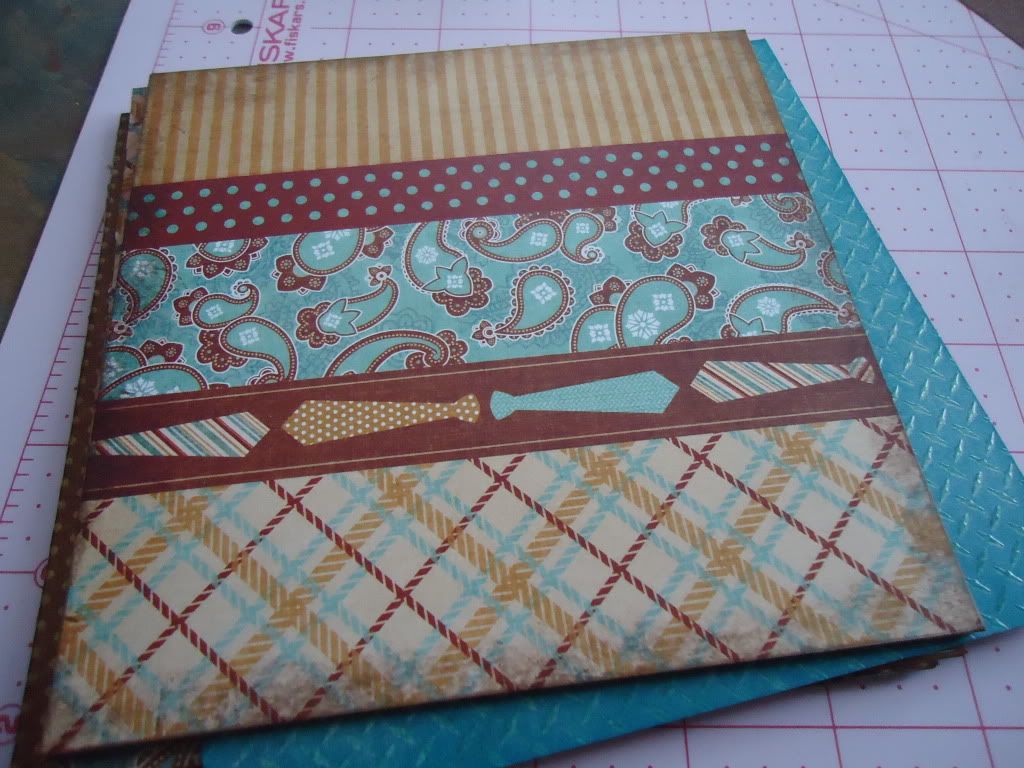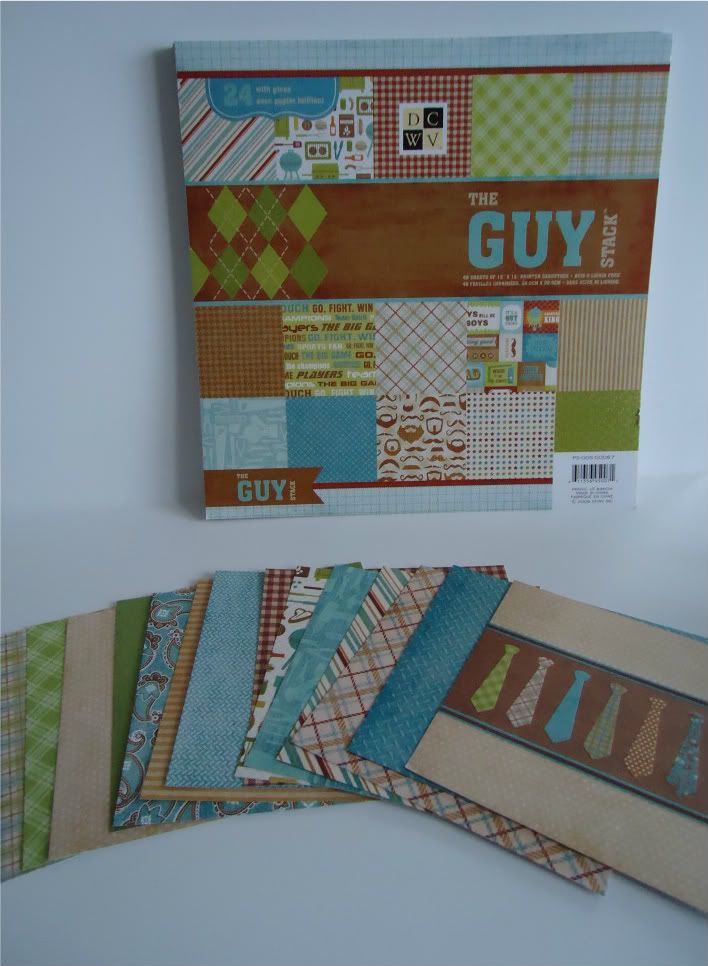 Next, I used Accent Essentials to cut of this circle shape. I had some clear stickers with sayings on them, this one says memories, and I used Tim Holtz Alcohol inks to die them. Used hemp twine for the bow.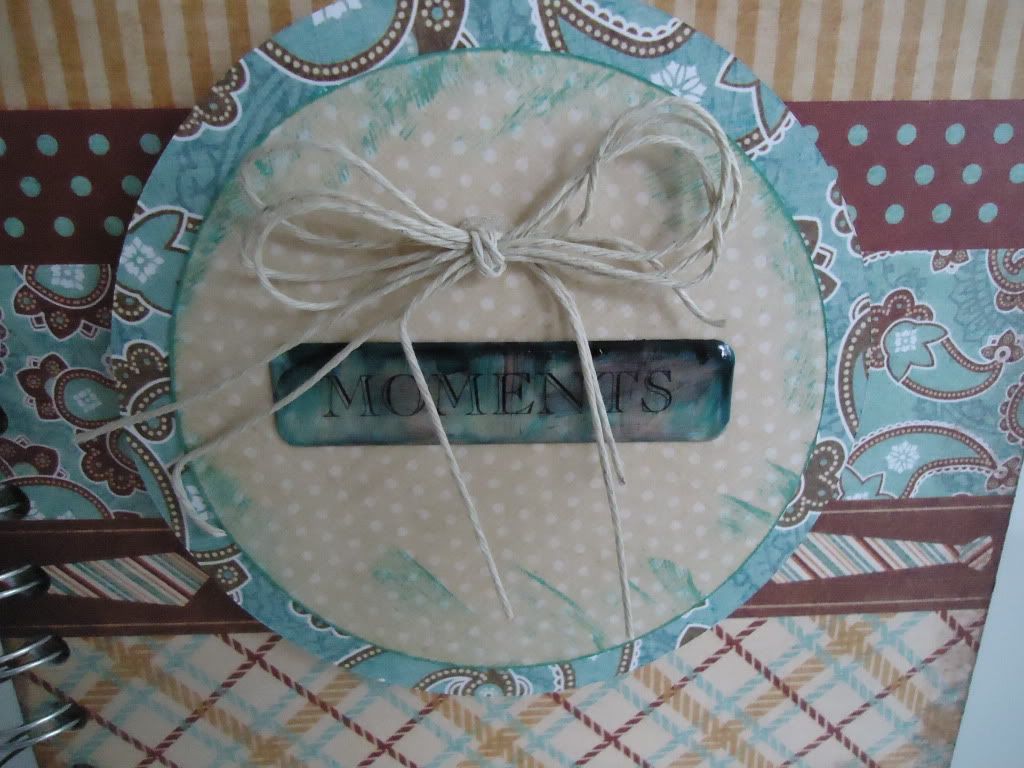 Next, we started decorating the inside pages.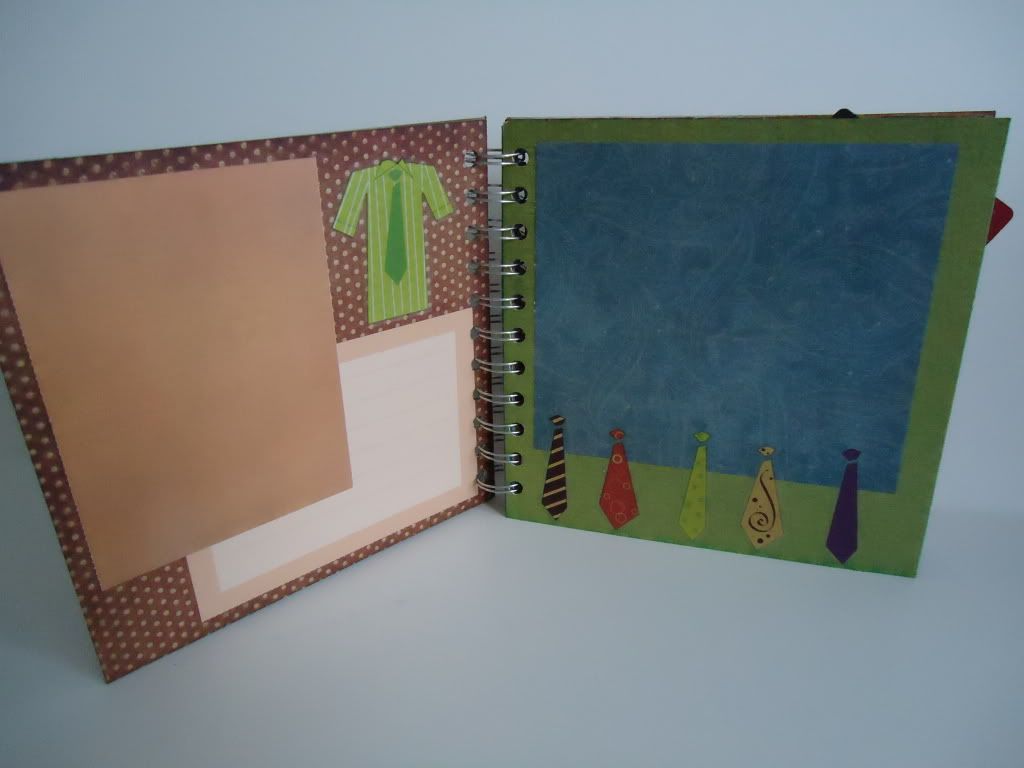 These were some leftover stickers I had from a different project, not sure who they are by.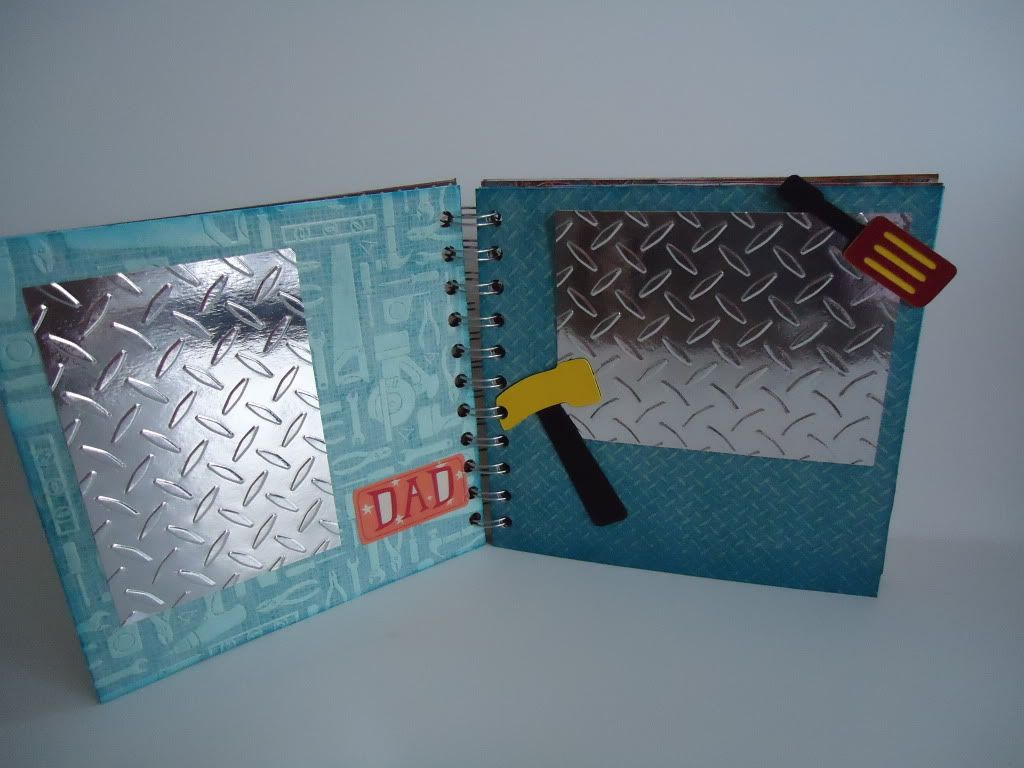 I used the Boys will be Boys cartridge for the hammer and screwdriver, and cuttlebugged two DCWV metalic pieces of cardstock to make them look like tool box chrome.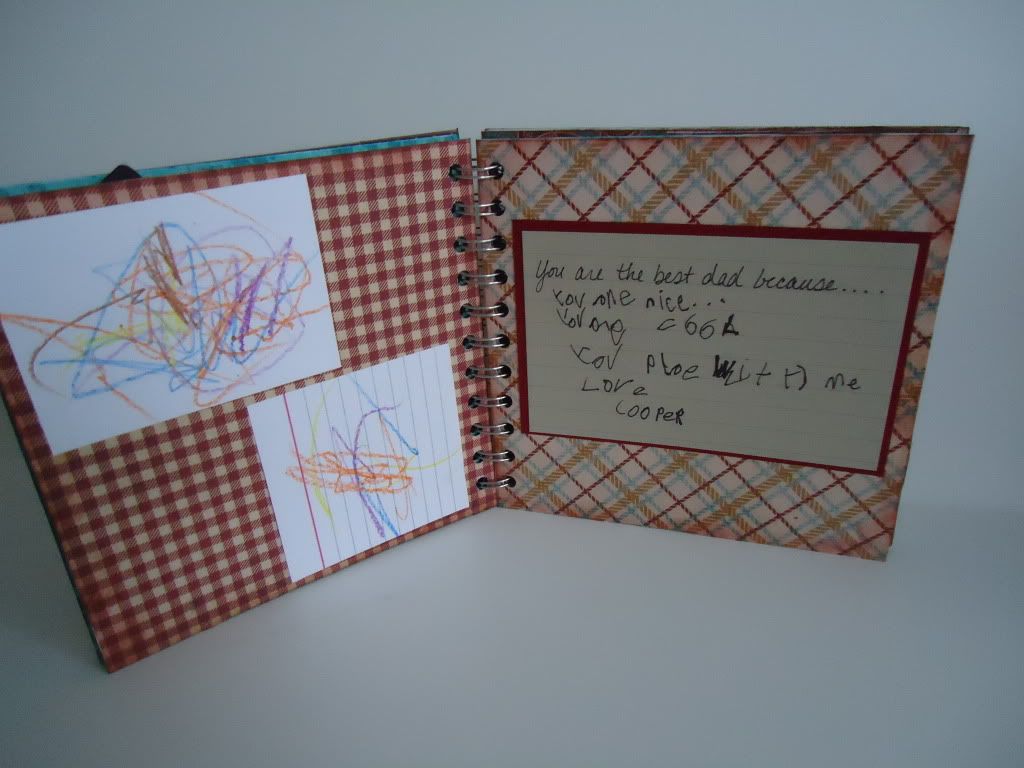 The page on the left was done by my 2 year old daughter and the one on the right was by my 7 year, he wrote a list of reasons why his dad is the best dad in the whole world. Its hard to read because he has really sloppy handwriting but one of the reasons was because he plays with him...pretty funny huh.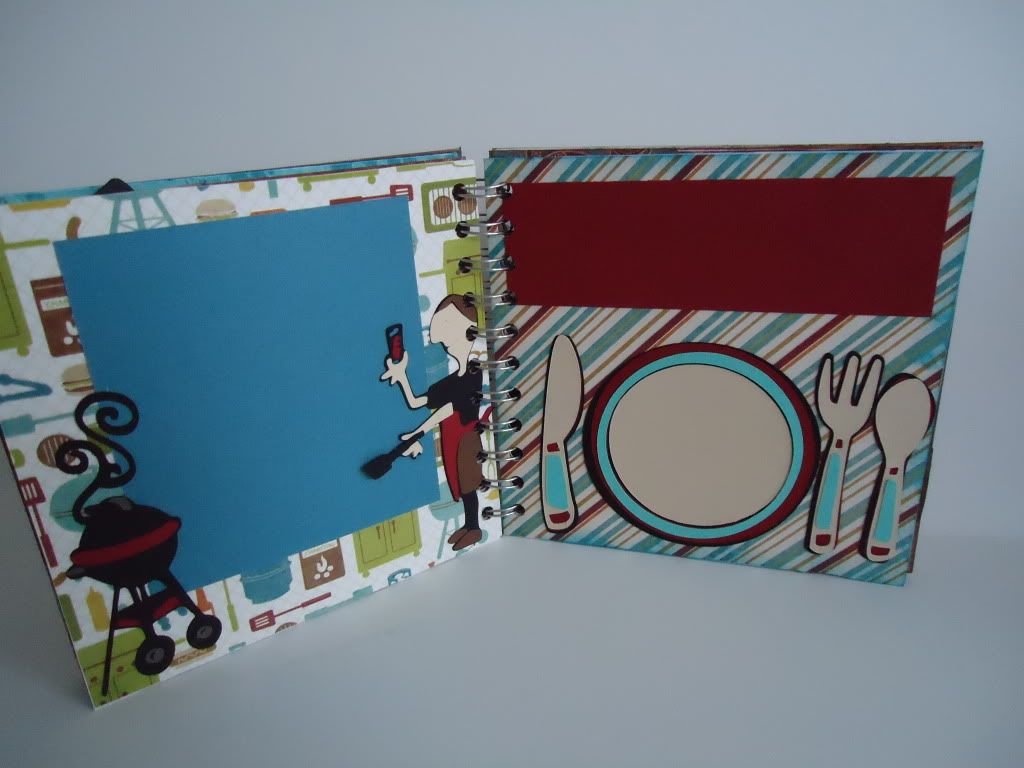 I used Block Party for these cuts, dad is a great BBQer so we thought we would put some pics of that in there.
This is cuts from Everyday Paperdolls. We love to camp in the Summer.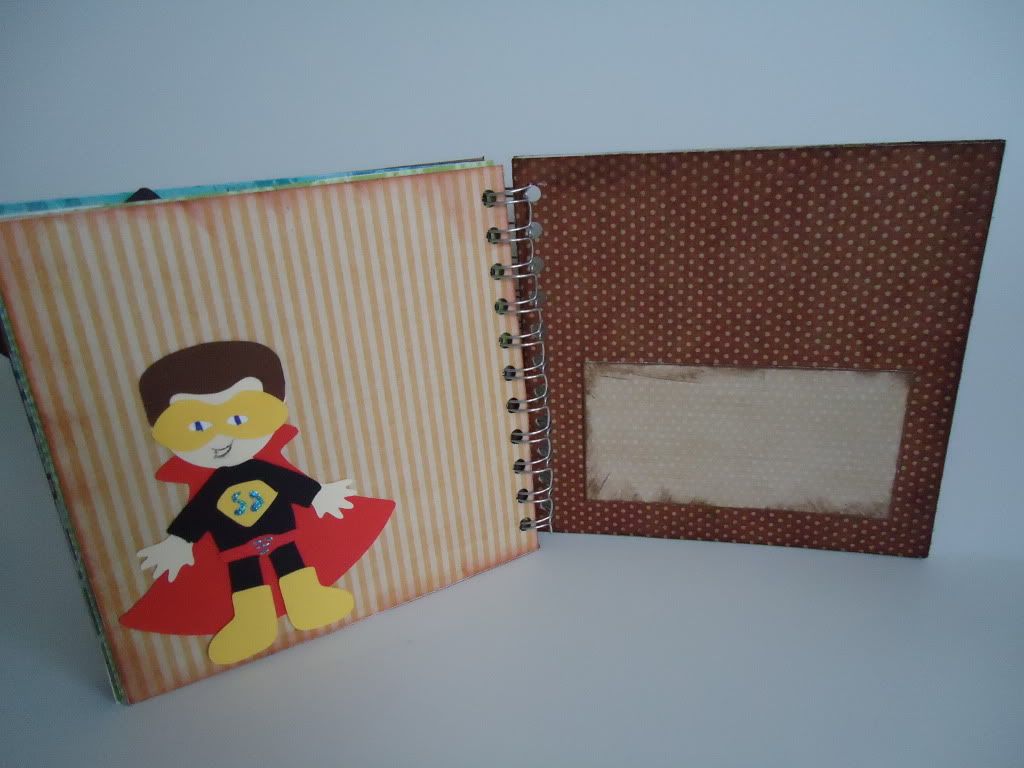 These last pages are Super DAD from Paperdoll Dress Up and the back cover has a pockets for their Father's day present to him. They got him tickets to the Steve Miller Band concert up at the outdoor theater in Lake Tahoe.
So now all I have to do is fill it up with some pictures and cut of some cute sayings from the Cricut- like Dad Rocks etc.... Just a few finishing touches and it will be good to go.
Thanks for stopping by today! Don't forget to come back tomorrow for K.Andrew Getting Cricky Stamp release blog hop! With lots of blog candy!!!